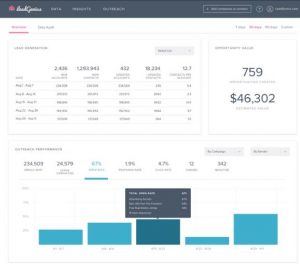 Image Credit: LeadGenius
LeadGenius, which uses machine learning to provide a marketing and sales tool for businesses, has raised $4 million in a new round of debt and equity funding.
The Berkeley, Calif.-based company said the investors in the round included SJF Ventures, as well as existing investors Lumia Capital and Javelin Venture Partners.
LeadGenius uses a combination of machine learning and real human researchers to power its business-to-business (B2B) service platform. The company will use the money to add multi-channel capabilities to LeadGenius for outbound marketing and sales.
"This new funding will enable LeadGenius to continue to innovate as a leading outbound and account-based marketing (ABM) leader," said Prayag Narula, cofounder and CEO of LeadGenius, in a statement. "LeadGenius already provides the most reliable, accurate customer data in the market. The next frontier is to leverage data to help customers get broader insights into their market and build a platform to easily orchestrate outbound marketing."
Alan Kelley of SJF Ventures will join the LeadGenius board as an observer.
"LeadGenius is an ideal match for SJF Ventures. The company's progressive workforce practices have helped create a sustainable marketing platform and a rapidly growing roster of impressive customers," said Kelley, in a statement. "LeadGenius is proof that responsible business models can deliver best-in-market products."
A Y Combinator alumnus from the summer of 2011, LeadGenius has now raised more than $22 million in total funding. Other investors include Sierra Ventures, Better Ventures, Fuel Capital, Funders Club, Initialized Capital, Bee Partners, Kapor Capital, Scrum Ventures, and Y Combinator's Continuity Fund.
LeadGenius' customers range from Fortune 500 companies such as Google, Square, Box, and eBay, to rapidly growing companies, such as Weebly, NerdWallet, and CareerArc. Founded in 2011 by three U.C. Berkeley graduate students (Anand Kulkarni, Dave Rolnitzky, and Prayag Narula), LeadGenius is on a mission to provide meaningful opportunities to underemployed individuals with digital skills anywhere in the world.